Although Google Earth is quickly conquering the global market due to it's large coverage and 3D features, there are some worthy opponents. Microsoft has it's Microsoft Virtual Earth 3D but like always can't seem to win from Google. A smaller player, and actually only active in Sweden (and some coverage in other Scandinavian countries) does however offer quite some interesting features: Higher detail and Increadible 3D capacity!
Hitta.se, the main Swedish search engine has it's own map, satelite and direction tool. The big difference is that they offer much more detail, because airplane are used instead of satellites. Yes, every square inch of Sweden has been overflown, photographed and neatly merged together. This gives the Swedish map tool incredible detail.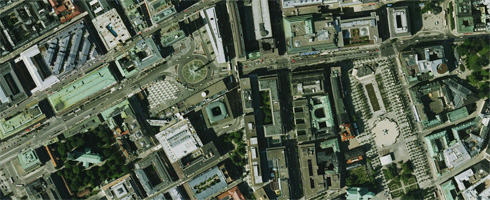 Compare the following two images: The left is from Hitta.se and clearly shows the soccer players on the filed, whereas the right, from Google Earth doesn't even show the white lines correctly.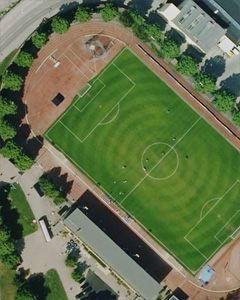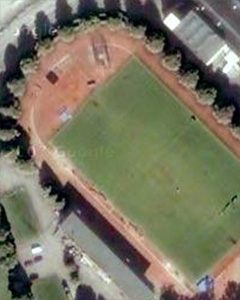 But the thing that really sets Hitta.se apart is it's state of the art 3D technology. No longer does a large team of people need to pre program all the buildings on earth, like in Google Earth; a sofisticated aerial photography technique coupled to military software gives the Swedes the most impressive 3D map ever seen.
Compare the next two images: Left is Stockholm, showing  3D buildings, trees and even cars. To the right is what Google Earth provides us. Impressive, but detail on the buildings is less, some grey buildings remain (yet to be textured) and trees are as flat as can be.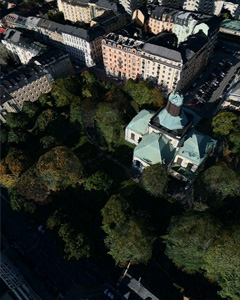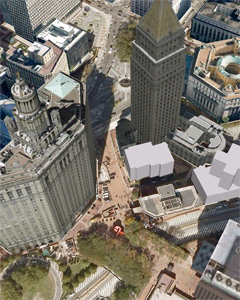 The difference lies in the Sweeds capturing technology. Their 3D map is rendered by 3DMaps EX software powering it is by Agency9, but the 3D data and imagery is captered by using  military technology provided by the Scandinavian  firm: C3 Technologies. They use highly sofisticated aerial cameras that record the exact position for each photo. This data is then used to calculate the position of each pixel exactly and once they then have enough pictures of an area (all from different angles), stereovision technology can translate it all into 3d.
Their technique is so fast that they claim to have created a realistic, yet zoomable and turnable, 3D model of the Stockholm city in just 3 days, back in Oktober 2007. Furthermore, they have a Streetview feature here .
Google Earth's 3D city models are built on flat images and therefore misses out on much detail, as it has to be done by hand. Hitta.se's technology is completely automated and any object larger than a VW bus is included in 3D in the final image, as they state in their FAQ. The fact that it is all automated does have some pitfalls. Transparent buildings or cranes cause problems, because the software can't handle this. Observe the following image of a crane in Stockholm harbour: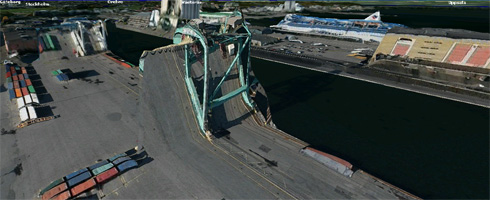 The street is pulled up to the highest point of the crane. the Hitta.se 3D just can't handle overhanging structures and transparent buildings.
All in all the technique is very promissing and especialy in more rural and suburban areas, with many organic features (trees, hills, hedges etc..), the results are astonishing. In some urban areas the Google Earth buildings are a little more accurate in terms of straight lines.
You should, however, have a look for yourself to appreciate it's stunning features:
Hitts.se 3D
 
Related:
This post is tagged Aerial Photography, Satellite Photography